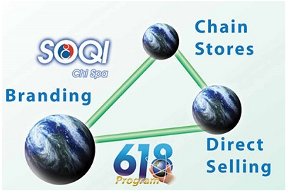 SOQI FRANCHISE
HTE International have came up with new business concept is to incorporate Brand recognition with franchise chain stores in the MLM industry. Like franchise of Star Bucks & 7 Eleven, etc. who are doing very well. HTE is able to take advantage of the franchises concept and gradually integrated it into the direct selling industry, to improve its marketing channel. This new marketing concept allows business owners to combine the advantages of a franchise into the direct selling industry.
Our SOQI workshops or SOQI wellness centers can take advantage of the brand recognition to present it professionally in the direct selling industry. By using this business concept, it enables the business owner to recruit more prospects, workshops, and soqi centers which will greatly enhance their success in HTE business by generating more residual income.
In the SOQI Franchise(Wellness Centre), we have professionally trained consultants who are dedicated to their job, and strive to provide a clean, relaxed, and comfortable environment. The SOQI experience is magical and can be best described as providing a joyful and healthy feeling.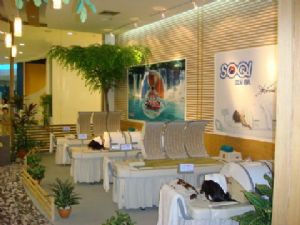 Soqi Wellness Center (A Soqi Franchise)
The SOQI wellness centre has a healthcare environment for distributors who owns a soqi workshop and wants to upgrade to the next level. This demo and service center is where Customers can experience the SOQI Chi Spa for at a reasonable price to mantain thier health, Distributors can also use this premises as a networking centre to service their fellow networkers.
The SOQI wellness Center incorporates the "SOQI Total Health Management" concept. Customers can begin with an Energy Measurement Device (EMD) evaluation, receiving a printout of their body's condition and what is needed to balance their system. We can then immediately offer Nutritional Supplements, Reflexology, Aerobic Exercise, Thermotherapy, Spa Music, and Aromatherapy via the Chi Machine, HotHouse, and ERE to adjust the rhythms in your body, help you relax, have restful sleep, reduce pain, lose weight, improve energy, clean & detoxify your body.