Introducing All New Soqibed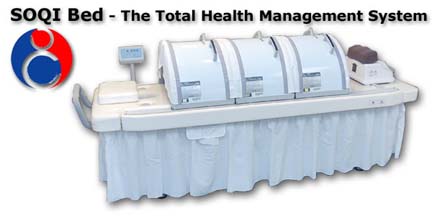 To View A Video Clip On The Soqibed
Bed Dimensions:
L86" x W35" x H23"
Height is 38" with Hothouses in place. (Height is not adjustable)
Weight: approx. 60kg (132lbs)
The Soqibed Includes:
One Sun Ancon Chi Machine
Three HotHouse Far Infrared Domes (Three Grande HotHouses with Grande Soqi Bed)
A massage bed of quality construction
A high quality sound system
Audio CD
Chi Machine Footrest Cover
HotHouse Extensions
The SOQIBED incorporates two high quality, award winning products designed to compliment one another. The action of the Chi Machine builds up chi – (life force energy), stimulating the body's energy levels throughout the day. The thermal energy from the HotHouse assists with cleansing and detoxifying the body and improving circulation.

It is possible to combine one, two or three of the HotHouses together with a Chi Machine to create the SOQI Spa. For therapists and clinics there is a custom built couch, digitally combining three HotHouses and a Chi Machine, together with a built-in sound system. This is technology at its luxurious best!

The two products can be used individually, however they were designed to compliment one another in order to create the maximum health benefit.
WHO IS IT FOR? : Whether in perfect health or dealing with minor to severe ailments, the SOQIBED is for everyone from all walks of life, from housewives to business men, gym enthusiasts, professional athletes or children, the physically challenged and the elderly. People suffering from chronic illness such as arthritis, diabetes, back/shoulder pain and any severe body dysfunction, the usage of soqibed have seen positive results on them. There are no side effects involved, no pain, no needles and no medication. It is simple, safe,non-toxic, therapeutic, an alternative healing, for health, fitness and wellness. This therapeutic spa, using the soqibed breaks down lactic acid and loosens up muscle tension. It promotes weight loss if used on a consistent daily basis, detoxifying the body and aid in dissolving fat cells.